Photographs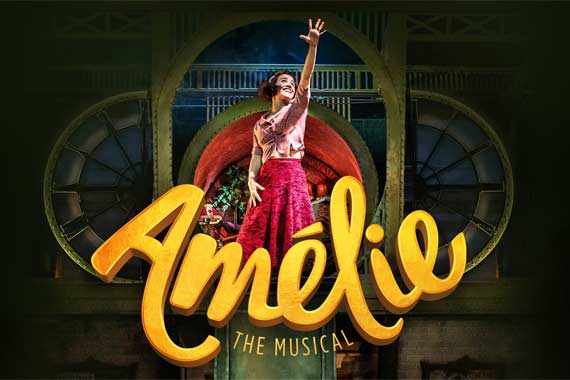 The Show
The show follows the colourful and inquisitive Amelie, who lives quietly in the world. While growing up, Am´┐Żlie kept to herself and barely spent any time with her parents. But after moving out, finding a job and making friends, Am´┐Żlie becomes happy in the life that she has created for herself. Am´┐Żlie has grown up to have a loud and attentive mind, this led to her secretly performing acts of kindness that bring happiness to those around her. But when the chance of love comes her way, Am´┐Żlie needs to decide what she wants. After building a happy and comfortable life for herself, does she take the risk and let him?

History of Am´┐Żlie the Musical
Am´┐Żlie the Musical was first produced in 2015 premiering in Berkeley, California and was originally a film directed by Jean-Pierre Jeunet. Am´┐Żlie, also known as Le Fabuleux Destin d'Am´┐Żlie Poulain, or The Fabulous Destiny of Am´┐Żlie Poulain, was also co-produced between companies in France and Germany. To date, the film is the highest grossing French-language film released in the United States and is also one of the biggest international successes for a French film. The musical has had many shows for a range of audiences; including a production in Los Angeles in 2016, a Broadway production in 2017, a 2018 Japanese production, and German, Finnish and British productions in 2019.

Why book with us to see Am´┐Żlie the Musical?
With your theatre tickets and hotel booking made in one reservation, it is possible to save up to 75%. Our London theatre breaks will ensure everything is organised for your trip away, even including some pre-theatre dinner options. Choose one of our great packages, be whisked away to Paris and fall in love with a story that captures us all.

Awards and what the critics might say
"A rocking realization of the film - Clever staging and warm performances make this adaptation of Jean-Pierre Jeunet's film a visual treat." The Guardian

"It's the perfect production of a delicious musical that audiences won't want to miss at the Watermill or out on tour." WhatsOnStage

"A delicious and magical DELIGHT - Do not miss this UK Tour." Express

"This stage-version is joyously surreal, not sickly sweet." The Telegraph

The 2001 film Am´┐Żlie was nominated for many awards and won awards in the BAFTA's including Best Original Screenplay, and the 'European Film Awards' for Best Film.
Am´┐Żlie the Musical has been nominated for the Drama League Award in 2017 for the Distinguished Production of a Musical category.

Theatre details
Criterion Theatre
Criterion Theatre
Piccadilly Circus
London
SW1Y 4XA
Directions:
Exit Piccadilly Circus Station onto Piccadilly Circus. The Theatre is on the right hand side and is visible from the tube exit. This is approximately a 1 minute walk.
Tube:
Piccadilly Circus station is 1 minute walk (45 metres)
Performances
| | Matinee | Evening |
| --- | --- | --- |
| Tuesday | | 7.30pm |
| Wednesday | | 7.30pm |
| Thursday | | 7.30pm |
| Friday | | 7.30pm |
| Saturday | 2.30pm | 7.30pm |
| Sunday | 3pm | |