Everybody`s Talking About Jamie Tickets and Hotel
Select:
1. Show >
2. Dates >
3. Hotel >
4. Rooms >
5. Seats >
6. Book
Prices include tickets plus hotel
Tickets + hotel fr £110 / person
Tickets + hotel fr £110 £99 / person
Your Hotel Direct credit:
Theatre details
Apollo Theatre
Apollo Theatre
31 Shaftesbury Avenue
London
W1D 7ES
Directions:
Exit Piccadilly Circus and head east on Coventry Street towards Great Windmill Street. Turn left onto Great Windmill Street and then right onto Shaftesbury Avenue. Continue on Shaftesbury Avenue and the theatre will be on your left.
Performances
| | Matinee | Evening |
| --- | --- | --- |
| Wednesday | 2.30pm | 7.30pm |
| Thursday | | 7.30pm |
| Friday | | 7.30pm |
| Saturday | 2.30pm | 7.30pm |
| Sunday | 2.30pm | 7.30pm |
Show notes
Booking from: 20 May 2021
Booking until: 26 Sep 2021
Age restrictions: Contains some strong language and mild sexual references. Parental discretion advised.
Why book with us?
No Booking fees. No Card fees
Buy tickets + hotel together to save more
Choose seat numbers & rooms before you book
We're in the UK!
No1 rated theatre site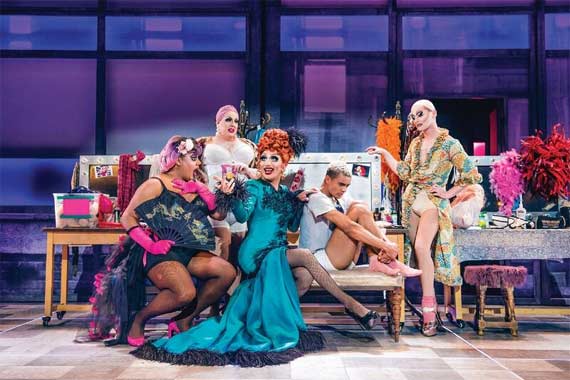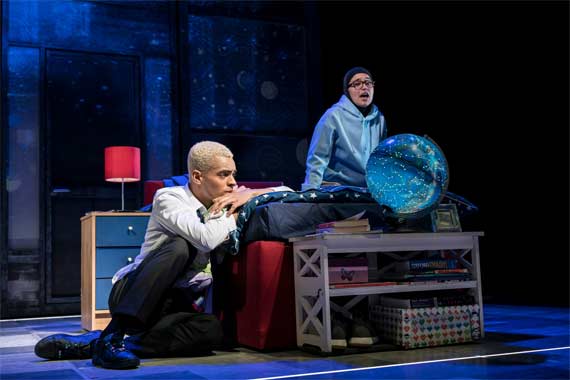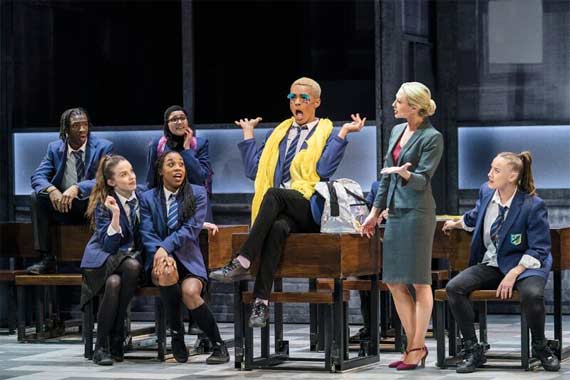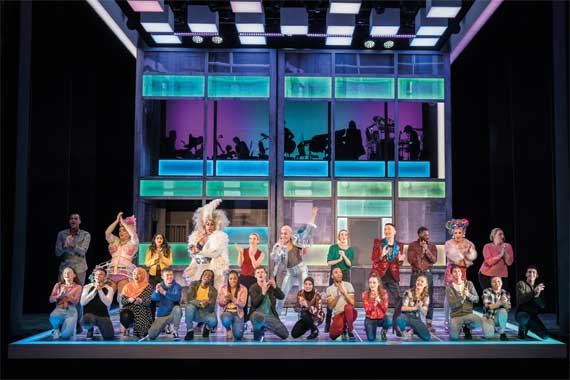 The Show
Stepping out of the darkness and into the spotlight, Everybody's Talking About Jamie is the sensational new musical inspired by a true story. Living on a council estate in Sheffield, Sixteen year old Jamie New doesn't quite fit in and is absolutely terrified about the future.With the loving support of his fantastic Mum and close friends, Jamie is able to overcome prejudice, beat the bullies and ultimately finds a path to self-acceptance and self-realisation.
Inspired by the true story of Jamie Campbell, Everybody's Talking About Jamie is the new hit musical for today. It has also been confirmed that Warp Films will be creating a film adaption of the hugely popular theatre production.

History of Everybody's Talking About Jamie
This fabulous musical is inspired by the true story of a 16 year old, a boy with a secret he needed to tell. In 2011, Jamie contacted Firecracker Films, the team which then created the BBC 3 documentary, Jamie: Drag Queen at 16. Which was about 16 year old Jamie Campbell coming out as Fifi la True at the end of school prom.A theatre director was inspired by Jamie's story and went on to create a musical, with some backing from a producing regional theatre. The production premiered at the Crucible Theatre in Sheffield on 13th February 2017 and was directed by Jonathan Butterell.
On 6th November 2017 the hit new musical made its first performance at the Apollo Theatre with most of its original cast returning.

Why book London theatre tickets to see Everybody's Talking About Jamie?
With your theatre tickets and hotel booking made in one reservation, it is possible to save up to 75% with Hotel Direct. You can even add rail tickets to your package, planning your trip is even easier and all in one reservation.

Awards & what the Critics say
The musical has been nominated for 5 different Laurence Olivier Awards and has also won 3 WhatsOnStage Awards; Best New Musical, Best Actor in a Musical (John McCrea), Best Supporting Actress in a Musical (Lucie Shorthouse).

"No wonder everybody's talking about it." Susannah Clapp - The Guardian.
"But 'Everybody's Talking About Jamie' is too fabulous to be a pity party. It's a joyous punch in the air about following your dreams and being yourself. 'Life-affirming' is generally an over-used term, but not here. This production owns the stage." Tom Wicker - Time Out.
"Heart-warming new British musical that tells a true story with power and poignancy - this is another winner about someone who refuses to be a loser." Mark Shenton - The Stage.
"What an Ensemble! Everybody's Talking About Jamie Is Queer Theatre with a Story of Hope, Self-love and the Power of Self-acceptance." Michelle Visage

Interesting facts about Everybody's Talking About Jamie
Although inspired by Jamie Campbell's' story, some of the musicals events and characters are fictional. One alteration is the setting has been moved from County Durham to Sheffield. Firecracker Films, who made the documentary Jamie: Drag Queen at 16, are also the team behind Big Fat Gypsy Weddings.John McCrea (Jamie New) had his first professional theatre job when he was 9, playing an unnamed sewer kid in Chitty Chitty Bang Bang at the London Palladium.

Everybody`s Talking About Jamie audience reviews
"Inspirational, Insightful and Incredible"
19/9/2021
"Captivated from the opening scene. The incredibly talented cast maintained a high energy performance from start to finish. Balancing perfectly the intimate emotional moments with the camp and exciting world of drag performance. Well deserved standing ovation."
23/11/2019
"good story with both sad and funny parts and some excellent voices.really good seats."
"Excellent"
6/11/2019
"Was unsure about going to see this show because I hadn`t heard of it before but it was so good."
29/4/2019
"Fantastic show well worth a watch"
19/3/2019
"Best show I have ever seen - loved it. Great story, acting, singing and dancing."
"Amazing"
1/12/2018
"Fab show we laughed cried and the whole cast were amazing. Would see it again and again."
"Jamie - emotional and funny"
12/11/2018
"great from start to finish = thoroughly entertaining"
"Amazing from start to finish"
30/9/2018
"This was amazing star of the show is Jamie but everyone played their part and made it a great experience. Plays with your emotions from laughter to tears. Just a amazing"
Dear . Fantastic news! You have a credit of to spend against your next hotel booking. Hotel Direct has awarded this money back to you in thanks for your regular custom. We hope that you have an opportunity to enjoy this personal money-off offer very soon. T&Cs apply.