Faulty Towers The Dining Experience Tickets and Hotel
Select:
1. Show >
2. Dates >
3. Hotel >
4. Rooms >
5. Seats >
6. Book
Prices include tickets plus hotel
Tickets + hotel fr £93 / person
Tickets + hotel fr £93 £83 / person
Your Hotel Direct credit:
Theatre details
Radisson Blu Edwardian Bloomsbury
Radisson Blu Edwardian Bloomsbury
Bloomsbury Street, 9-13 Bloomsbury Street
London
WC1 3QD
Directions:
-
Performances
| | Matinee | Evening |
| --- | --- | --- |
| Thursday | | 7.30pm |
| Friday | | 7.30pm |
| Saturday | 1.30pm | 7.30pm |
| Sunday | 1.30pm | 6.30pm |
Show notes
Running time: 2 hours
Booking from: 05 Nov 2020
Booking until: 20 Dec 2020
Why book with us?
No Booking fees. No Card fees
Buy tickets + hotel together to save more
Choose seat numbers & rooms before you book
We're in the UK!
No1 rated theatre site
Photographs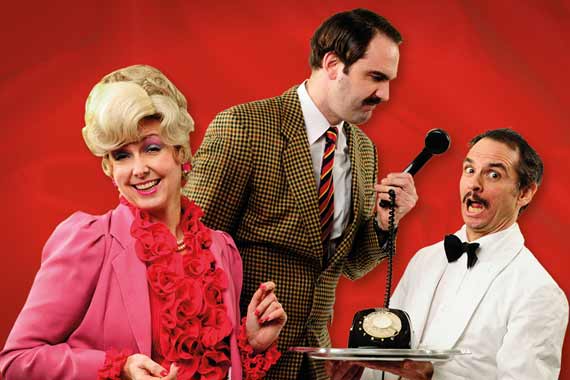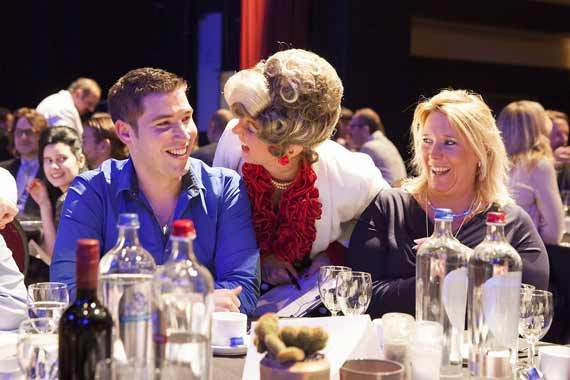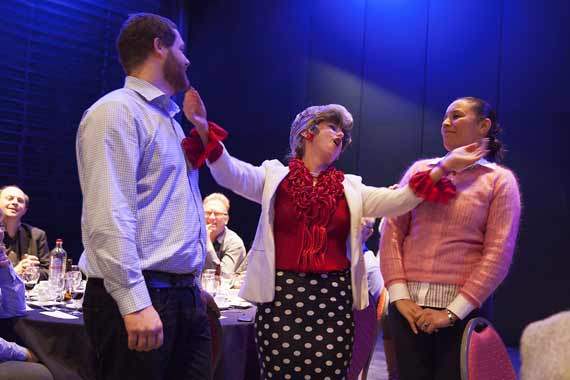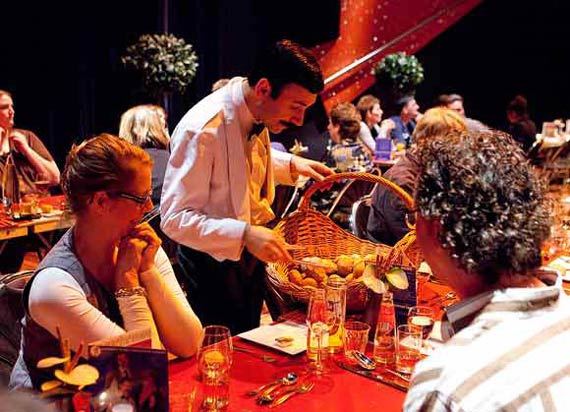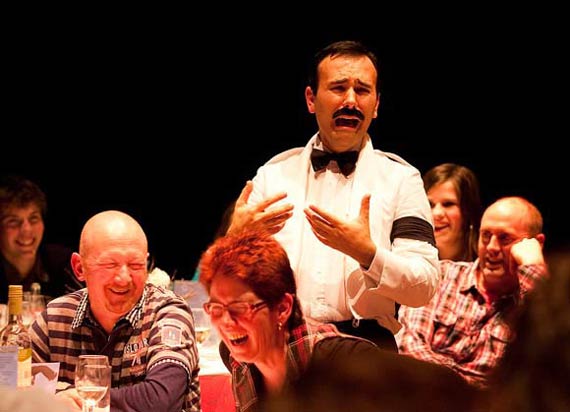 The Show
Interactive Theatre International presents… Faulty Towers The Dining ExperienceBook now for the world's longest running and most successful tribute to the BBC's iconic sitcom in London's West End, the one-of-a-kind original that's internationally recognised as 'outrageously funny' (BroadwayBaby) and highly acclaimed by audiences and critics alike.

This is the show that started it all 22 years ago and still rules the world to this day – the comedy spectacular that helps you step inside the TV show and see it from the inside out! Highly interactive and fully immersive, it's 70% improvised, tempting audiences to play with Basil, Sybil and Manuel as they serve a 3-course meal.

With two hours of comedy, three courses of food and five-star reviews, expect chaos, laughs, and a brilliant night out – or lunchtime! Faulty Towers The Dining Experience is a proud member of TripAdvisor's Hall of Fame, specially reserved for holders of TA's Certificate of Excellence for five years on the trot.

With over 22 years of continuous critical and audience acclaim and having just sold its millionth ticket, it is clear that this is officially the world's most sought-after tribute to the BBC's Fawlty Towers and the most successful interactive comedy show of its kind.

'Deliciously entertaining' â??â??â??â??â?? What's on London'Fantastic!' â??â??â??â??â?? What's on Stage'Absolute genius… Smart, aware, clever comedy.

Five stars - full house - it got a standing ovation from everyone.

I can't think of a better night out for everybody - kids, parents, grandparents and everyone in between.

In terms of this sort of a show, I think it's the gold standard.

.

.

and it'd make a great gift - give this to the people you love, they will thank you for it.

' â??â??â??â??â?? The Break A Leggers

Faulty Towers The Dining Experience audience reviews
"Hugely entertaining and great fun!"
11/10/2019
"The character portayals of Basil, Sybil and, particularly, Manuel were superb. Much of the humour relates to classic scenes from the original sitcom which have been cleverly scripted into one `interactive` episode. Considering the numbers being catered for, the food was excellent. Drinks are on the pricey side, but I suppose that`s to be expected at an event such as this. All in all it`s a fantastic, fun way to spend an evening. If your a fan of the original, you won`t be disappointed."
"Hilarious and very professional"
30/7/2019
"Very well played & not over the top, Sybil especially was outstanding.Food was good & like all people we spoke with was the drinks far too expensive.Would highly recommend the show."
28/4/2019
"It was a occasion and he was serenaded by sybil All our faces ached laughing. It was a wonderful evening ."
"Spectacular Performance we were laughing before we even got seated"
26/11/2018
"The performers were exactly what you would expect very courteous but definitely a little bit dysfunctional the food was awful but what do you expect at Fawlty Towers superbly presented if you do not mind your food being thrown at you lol"
"Excellent from start to finish"
7/10/2018
"I have read some reviews before going however it was great and full of surprises. The show started in the bar area of the hotel and we were seated first. We had excellent seats and could see the whole of the restaurant so we could watch what was happening throughout the evening. The food was good considering the number of people who were there, about 150. There was lots of laughter and the actors were great throughout. I had read on previous reviews that the drinks are expensive and they are however there is water available on the tables if you do not wish to drink or have that extra expense. A great show that I would highly recommend."
Dear . Fantastic news! You have a credit of to spend against your next hotel booking. Hotel Direct has awarded this money back to you in thanks for your regular custom. We hope that you have an opportunity to enjoy this personal money-off offer very soon. T&Cs apply.