Rip It Up Tickets and Hotel
Select:
1. Show >
2. Dates >
3. Hotel >
4. Rooms >
5. Seats >
6. Book
Prices include tickets plus hotel
Tickets + hotel fr £91 / person
Tickets + hotel fr £91 £81 / person
Your Hotel Direct credit:
Theatre details
Garrick Theatre
Garrick Theatre
2 Charing Cross Road
London
WC2H 0HH
Directions:
Exit Leicester Square tube station and turn right onto Charing Cross Road. Walk down Charing Cross Road for 2 minutes and the theatre is on your right.
Tube:
Leicester Square station is 1 minute walk (144 metres)
Performances
| | Matinee | Evening |
| --- | --- | --- |
| Wednesday | 2.00pm | 7.30pm |
| Thursday | | 7.30pm |
| Friday | | 7.30pm |
| Saturday | 2.00pm | 7.30pm |
| Sunday | 2.00pm | 7.30pm |
Show notes
Booking from: 22 May 2019
Booking until: 02 Jun 2019
Why book with us?
No Booking fees. No Card fees
Buy tickets + hotel together to save more
Choose seat numbers & rooms before you book
Tel: 0800 633 8000
Mob: 01872 261100
We're in the UK!
No1 rated theatre site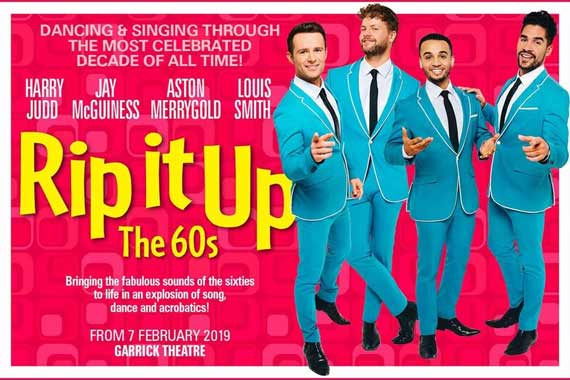 The Show
Rip It Up is a mix of 1960's classic musicians like Elvis, The Who, Bob Dylan, Tina Turner, Stevie Wonder and The Beatles all performed by 4 talented and entrancing men. For your entertainment, Aston Merrygold (JLS), Jay McGuiness (The Wanted), harry Judd (McFly) and Louis Smith (Olympian) have come together to ?Rip It Up' and perform an incredible show that brings drumming, singing and gymnastics together! They will be joined by a marvellous cast of musicians, dancers and singers to bring all of the best 60's songs together for a celebration like no other. This show will get you up off your seat singing and dancing the night away.

History of Rip It Up
Rip it Up has come from the 2017 show Rip It Up - Dancing through the 50's which brought together Natalie Lowe, a former strictly professional along with Jay McGuiness and Louis Smith who are two former strictly champions. After the show had such huge success selling over 50,000 tickets, the boys came back together and brought Harry and Aston along for a new spectacular show with a new decade of music for 2018 and 2019.

Why book London Theatre Breaks to see Rip It Up
When booking a theatre break with Hotel Direct you are not only guaranteed a wide selection of handpicked hotels at the lowest possible prices as well as the ability to select exactly which seats you wish to book. Hotel Direct now also offer the option to include rail tickets with your break making organising your trip much easier. So, if you're into having music running through your veins, your body dancing along to the tunes and the urge to sing at the top of your voice all with a sensational performance, then Rip It Up is a show you must see.

Rip It Up audience reviews
"Brilliant show"
11/5/2019
"Fabulous"
6/4/2019
"Exuberant, lively, fun .. from start to finish. American-style compere a bit annoying, but thoroughly enjoyable night out. Have read previous comments "it`s okay if you`re a Strictly fan" ? but that`s the whole point! Sixties music, setting the background to some extremely clever dance routines (everything from Rumba, Jive, Charleston, Quickstep, Waltz, Foxtrot). Individual stars also showing the talents which made them famous (gymnastics, drumming, singing ? who knew Louis Smith could sing?!)Didn`t want it to end - and can`t wait for the Seventies show!"
"Absolutely brilliant - dancing, singing,gymnastics the lot. I could watch it again & again"
5/4/2019
"Lewis, Harry, Jay & Aston are as good - if not better - than ever. Harry`s quickstep, Jay`s jive, Lewis` rumba are magical. All the other dancers, singers, musicians & compere are magnificent. Can`t wait for the 1970`s show."
"RIP IT UP"
16/3/2019
"I did not know what to expect but it was brilliant, the dancing was fabulous, the music was brilliant and the cast was magnificent. The four main leads were amazing. I can`t recommend the show enough. It was a great night out."
18/2/2019
"good all round show with good music and lots of energy by all performers.a must to see show.oh to be young again after watching this show, so much dancing so much energy"
Dear . Fantastic news! You have a credit of to spend against your next hotel booking. Hotel Direct has awarded this money back to you in thanks for your regular custom. We hope that you have an opportunity to enjoy this personal money-off offer very soon. T&Cs apply.