Your Hotel Direct credit:
Why book with us?
Buy tickets + hotel together to save more
Choose seat numbers & rooms before you book
Tel: 0800 633 8000
Mob: 01872 261100
We're in the UK!
No1 rated theatre site
Theatre details
Ambassadors Theatre
Ambassadors Theatre
West Street
London
WC2H 9ND
Directions:
4 min walk from Leicester Square Tube Station. Head east on Cranbourn Street, turn left onto St Martin`s Lane, left again onto West Street and the theatre will be on the right.
Tube:
Leicester Square station is 2 minute walk (204 metres)
Performances
| | Matinee | Evening |
| --- | --- | --- |
| Monday | | 8pm |
| Thursday | 3pm | 8pm |
| Friday | | 8pm |
| Saturday | 3pm | 8pm |
| Sunday | 3pm | 6pm |
Show notes
Running time: 1 hour 40 minutes
Booking from: 22 Sep 2017
Booking until: 15 Apr 2018
Photographs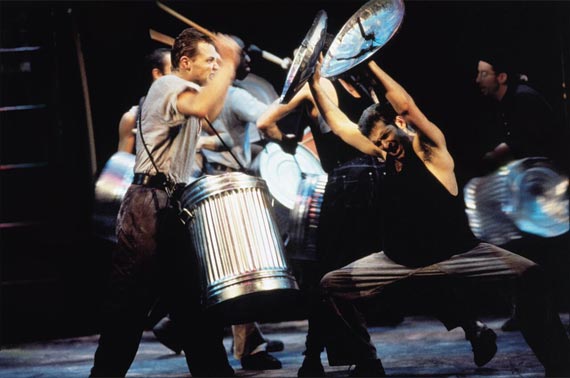 The Show
A unique blend of the familiar and the unusual, Stomp combines stunning choreography, hilarious physical theatre and explosive music to create a distinctive theatrical experience that the whole family can enjoy. Taking everyday objects and using them to create a cacophony of sounds, beat out in energetic rhythm by eight members of the Stomp London Company, this show manages to express emotion and drama without any words at all. The universal language of music and dance is relatable for any culture and nationality, making it a popular choice for audiences worldwide. This electrifying show is a one of a kind celebration of sound and takes the audience on an empowering voyage through the universe of Stomp.

History of Stomp
The idea behind Stomp is the culmination of a decade long partnership between Luke Cresswell and Steve McNicholas, members of a theatre group called Cliff Hanger and a street band called Pookiesnackenburger since 1981. The band produced the famous Heineken 'Bins' advert in 1986, which would provide the basis for Stomp's dramatic closing number; with the pair also producing an eight-minute drum sequence for an HBO special titled Mondo Beyondo starring Bette Midler. In 1991 the pair previewed Stomp at London's Bloomsbury Theatre and premiered at Edinburgh's Assembly Rooms, opening to rave reviews and touring around the world for the next three years. The first American production was cast in 1994, while the original cast toured North America and Japan; and by 1995 two more American companies were started in order to tour the US exclusively. The production celebrated its 10 year anniversary in New York in 2004 with 8th Avenue being renamed as 'Stomp Avenue' in their honour. The show premiered in the West End at the Vaudeville Theatre in 2002 and later that year performed at The Royal Variety Show. The show's biggest ever company, with 40 performers from 12 countries, was brought together to perform as part of the closing ceremony for the London 2012 Olympic Games, showcasing the production to an even wider audience. Stomp celebrated its 25th birthday in 2016, and will celebrate 15 years in London and 10 years at the Ambassadors Theatre in September 2017.

Why book London theatre breaks to see Stomp?
It's possible to save even more when you book your theatre tickets and hotel in one reservation - and the option to add rail tickets to your package makes planning and booking your trip with Hotel Direct even easier. Book a theatre break to see this show and have a stomping good time!

Awards and What the Critics Say
The first award the production won was the Guardian Best of Fringe Award for its debut at the Edinburgh Fringe Festival in 1991. Stomp has been nominated for two Olivier Awards, winning one for Best Choreography in 1994 and in the same year winning an OBIE and a Drama Desk Award. In 1996 the productions short film 'Brooms' which is based on the show's opening number was nominated for an Oscar at the Academy Awards. The duo behind Stomp, Luke Cresswell and Steve McNicholas were awarded a joint honorary Doctor of Arts degree from the University of Brighton in tribute to their major contribution to music and performance.

The show has received rave reviews with The Times describing it as 'Impressively powerful' while the Sunday Telegraph declares 'Expect to be amazed'. The Independent on Sunday claims 'Stomp brings the house down', while the New York Times describes is as 'Brilliant and very funny: theatre at its most seductive'. The Boston Herald is also full of praise, recommending 'If you haven't seen Stomp, go! If you have seen it, take someone who hasn't and share the pleasure.'