89 Promenade
Blackpool
FY1 5AA', thumb: '//www.hoteldirect.co.uk/img/Madame-Tussauds-Priority-Entrance-thumb-large.jpg', distance:'Distance to tube:', lat: '53.811970', lng: '-3.054615' } ]; var tube = [ { name: '', description: '', lat: '', lng: '' } ]; function initialize() { TheatreBreaks.initializeMap({ lat: '53.811970', lng: '-3.054615', zoom: 13, attraction: attraction, tube: tube }); } function loadMapScript() { var script = document.createElement('script'); script.type = 'text/javascript'; script.src = 'https://maps.googleapis.com/maps/api/js?v=3.exp' + '&key=AIzaSyDdiSE1qIzqFvwI-W18TrMewsYqaefd4DI&signed_in=true&callback=initialize'; document.body.appendChild(script); } var revtotal = 0, hotelcookie; if (revtotal === 0) { hotelcookie = [ "Madame Tussauds Blackpool Standard Entry", "//www.hoteldirect.co.uk/img/Madame-Tussauds-Priority-Entrance-thumb-large.jpg", "", "0", "//www.hoteldirect.co.uk/londonbreaks/madame-tussauds-blackpool-standard-entry.htm", "", "", "Madame Tussauds Blackpool Standard Entry", "London" ]; } else { hotelcookie = [ "Madame Tussauds Blackpool Standard Entry", "//www.hoteldirect.co.uk/img/Madame-Tussauds-Priority-Entrance-thumb-large.jpg", "", "0", "//www.hoteldirect.co.uk/londonbreaks/madame-tussauds-blackpool-standard-entry.htm", "Customer Score, 0 reviews", ": ", "Madame Tussauds Blackpool Standard Entry", "London" ]; } $(function() { HD.Cookie.attachRecentlyViewed(); HD.Cookie.setLastViewed(hotelcookie); });
Madame Tussauds Blackpool Standard Entry hotel package
Select:
1. Attraction >
2. Dates >
3. Hotel >
4. Rooms >
5. Book
Prices include tickets plus hotel
Tickets + hotel fr £60 / person
Tickets + hotel fr £60 £54 / person
Your Hotel Direct credit:
Attraction details
Madame Tussauds Blackpool Standard Entry
Madame Tussauds Blackpool
89 Promenade
Blackpool
FY1 5AA
Directions:
-
Attraction notes
Age restrictions: Children are 3-14 years. Under 3: Go Free. All children under 16 must be accompanied by a legal adult (18+)
Booking from: 13 Jul 2023
Booking until: 30 Dec 2023
Opening hours: The attraction opens every day at 10am on selected dates.
Pick up point: Please present your E-Ticket with barcode upon arrival at 89 The Promenade, Blackpool, Lancashire FY1 5AA.
Important info: With all COVID-19 restrictions ending in England on 24 Feb 2022,the priority is to continue to offer the best possible experience to guests whilst ensuring to also look after the staff. There are hygiene and safety measures in place throughout the attraction, including enhanced cleaning, hand sanitiser and increased ventilation. For indoor attractions, key walkways or busier areas, guests may still see signage stating 'Face Coverings Recommended' which is in line with public health guidance. Staff who wish to continue wearing a face covering whilst working have the option to do so.If you or your party display any symptoms of COVID-19 or have tested positive, we ask that you do not visit.Disabled AccessMadame Tussuads is accessible directly from the public footpath on the promenade, The attraction is a historic building set over a number of levels across two buildings. When you arrive the team will issue you with an accessibility leaflet to assist you in getting around the attraction.The team will advise you the location of the lift when you arrive, the lift is operated by a member of staff. The lift will take you to level 1, which includes Brian Cox, I'm A Celebrity and Football Locker room. Level 2 includes Sporting Academy, Marvel, Coronation Street and Music.There is a new access corridor which allows access to Best Of British, Festival Fields, Seaside (including Mirror Maze) and Crime.For safety reasons, only three wheelchair users can be accepted at any one time and it is strongly advised that you pre-book in advance.
Madame Tussauds Blackpool Standard Entry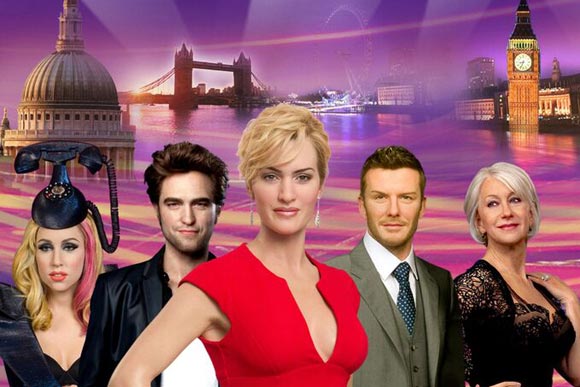 The attraction
The world famous Madame Tussauds has changed a lot in its 200 year history and is now the premier site for stunningly accurate recreations of the famous and infamous. Whilst retaining many of its historical figures there is also a greater emphasis on celebrities and popular contemporary figures. Visitors can explore waxworks of a range of entertainers from the world of film, music and sport as well as the British monarchy, famous world leaders and of course the legendary chamber of horrors with its grizzly cast of original death masks which date back to the French Revolution.

With each portrait taking up to six months to create and costing tens of thousands of pounds, you could easily mistake the figures for real people. So if you fancy taking a selfie with Beyonce or just getting up close to Albert Einstein, Madame Tussauds is an attraction not to be missed. With its overwhelming popularity booking a priority entrance ticket can save a lot of time queuing up and allow more time to explore the many different exhibitions.

History of Madame Tussauds
The founder, Marie Tussaud, learnt her trade from her mother's employer and created her first sculpture of the famous philosopher Francois Voltaire at the age of 16, during the French revolution Marie was imprisoned and created death masks of the executed nobles.

After travelling to England, a permanent exhibition was set up as the Baker Street Bazaar in 1835 and then moved to its current location in 1884. In its 200 year history Madame Tussauds has welcomed over 200 million visitors and now has locations in many major cities.

Interesting facts
All of the figures regularly have their hair washed and dried and make up retouched.

All of the figures are created 2 percent larger than the original to allow for the wax to shrink.

One of the few people to refuse a portrait at Madame Tussauds was Mother Theresa.

Why book with us?
No Booking fees. No Card fees
Buy tickets + hotel together to save more
Choose your room type before you book
We're in the UK!
Tel: 0800 633 8000
Mob: 01872 261100
1000s of reviews
No1 rated break site
Checking availability
You're securing a better price booking your attraction and hotel together!
Madame Tussauds Blackpool Standard Entry
Madame Tussauds Blackpool
89 Promenade
Blackpool
FY1 5AA
Closest Tube
Dear . Fantastic news! You have a credit of to spend against your next hotel booking. Hotel Direct has awarded this money back to you in thanks for your regular custom. We hope that you have an opportunity to enjoy this personal money-off offer very soon. T&Cs apply.