Tower Bridge Road
London
SE1 2UP', thumb: '//www.hoteldirect.co.uk/img/Tower-Bridge-Exhibition-thumb-large.jpg', distance:'Distance to tube:9 minute walk (745 m)', lat: '51.5034', lng: '-0.076579' } ]; var tube = [ { name: 'London Bridge', description: '9 minute walk (745 metres) from Tower Bridge Exhibition', lat: '51.505503719224436', lng: '-0.08678555488586426' } ]; function initialize() { TheatreBreaks.initializeMap({ lat: '51.5034', lng: '-0.076579', zoom: 13, attraction: attraction, tube: tube }); } function loadMapScript() { var script = document.createElement('script'); script.type = 'text/javascript'; script.src = 'https://maps.googleapis.com/maps/api/js?v=3.exp' + '&key=AIzaSyDdiSE1qIzqFvwI-W18TrMewsYqaefd4DI&signed_in=true&callback=initialize'; document.body.appendChild(script); } var revtotal = 0, hotelcookie; if (revtotal === 0) { hotelcookie = [ "Tower Bridge", "//www.hoteldirect.co.uk/img/Tower-Bridge-Exhibition-thumb-large.jpg", "", "0", "//www.hoteldirect.co.uk/londonbreaks/tower-bridge.htm", "", "", "Tower Bridge", "London" ]; } else { hotelcookie = [ "Tower Bridge", "//www.hoteldirect.co.uk/img/Tower-Bridge-Exhibition-thumb-large.jpg", "", "0", "//www.hoteldirect.co.uk/londonbreaks/tower-bridge.htm", "Customer Score, 0 reviews", ": ", "Tower Bridge", "London" ]; } $(function() { HD.Cookie.attachRecentlyViewed(); HD.Cookie.setLastViewed(hotelcookie); });
Tower Bridge hotel package
Select:
1. Attraction >
2. Dates >
3. Hotel >
4. Rooms >
5. Book
Prices include tickets plus hotel
Tickets + hotel fr £60 / person
Tickets + hotel fr £60 £54 / person
Your Hotel Direct credit:
Attraction details
Tower Bridge
Tower Bridge Exhibition
Tower Bridge Road
London
SE1 2UP
Directions:
-
Tube:
London Bridge station is 9 minute walk (745 metres)
Attraction notes
Age restrictions: Children are 5- 15 years. Under 5 travel FREE
Opening hours: Tower Bridge is open 0930 - 1800(Last entry at 17:00)
Pick up point: Please present your E-Ticket upon arrival at Tower Bridge Road, London, SE1 2UP.
Important info: Queues are outside (so please check the weather)Wear comfortable shoes for walking up the Tower (lifts are available for those who require them) Be aware that only small bags are permitted nd all bags are subjected to searchDue to scheduled maintenance work, our lift in the North Tower will be out of service from 8 January to early March. Stairs to the Walkways will be available as usual. There will be an alternative accessible route available using the lift at the South Tower, which is 350 metres away and visitors will need to cross the road. If visitors have access needs, they should speak to a member of staff upon arrival.From 22 January to 2 February, there are scheduled maintenance works taking place on the Bridge that may affect our arrival and queuing area. Visitors should speak to a member of staff on arrival at the ticket office to be directed accordingly.__Disabled Access__There are two lifts up to the Walkways, one in the North Tower of the Bridge and one in the South Tower.Thereā??s an external lift to access the Engine Rooms entrance and the Tower Bridge Gift Shop from bridge level to the Thames footpath level. It is located on the southeast side of the Bridge.Wheelchairs are available at both Ticket Office and Engine Rooms entrances to borrow for your visit.
Tower Bridge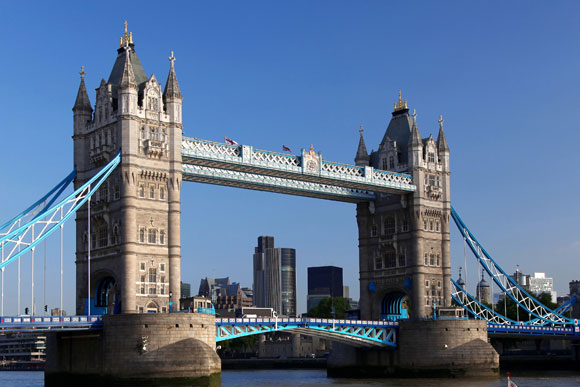 The Attraction
Probably the most famous bridge in the world visitors have been flocking to Tower Bridge since its completion to marvel at this architectural masterpiece. Explaining the history and development of the bridge as well as giving fantastic views from the high level walkways, and with the new glass floor panels you can experience London like never before. Having enjoyed the views from the top, the tour culminates in the engine room which houses the beautifully maintained Victorian bridge lifting mechanism.

Visitors looking to enjoy this spectacular monument can choose from Hotel Directs wide range of affordable accommodation in the surrounding area.

History of the attraction
Constructed between 1886 and 1894, Tower Bridge is a combined bascule and suspension bridge with two towers connected at the upper level by two walkways. Over 50 designs were submitted with the final decision drawing controversy as the design was by Sir Horace Jones who was also on the judging panel.

Opened in 1982, the Tower Bridge Exhibition has told the history of the bridge using a range of media including films and pictures as well as giving visitors access to the high walkways from which they can enjoy fantastic panoramas of the city of London.

Interesting Facts
There is a popular urban myth that an American entrepreneur mistakenly bought the old London Bridge and had it shipped to Arizona under the mistaken belief that it was Tower Bridge.

In 1952 a double decker bus was forced to jump a 3 foot gap as the bridge was raised due to a warning bell not being rung.

Why book with us?
No Booking fees. No Card fees
Buy tickets + hotel together to save more
Choose your room type before you book
We're in the UK!
Tel: 0800 633 8000
Mob: 01872 261100
1000s of reviews
No1 rated break site
Checking availability
You're securing a better price booking your attraction and hotel together!
Tower Bridge
Tower Bridge Exhibition
Tower Bridge Road
London
SE1 2UP
Closest Tube
London Bridge station is 9 minute walk (745 metres)
Dear . Fantastic news! You have a credit of to spend against your next hotel booking. Hotel Direct has awarded this money back to you in thanks for your regular custom. We hope that you have an opportunity to enjoy this personal money-off offer very soon. T&Cs apply.