Bullied Way
Victoria
SW1W 9SR', thumb: '//www.hoteldirect.co.uk/img/Warner-Bros.-Studio-Tour-with-Golden-Tours-Coach-Travel-thumb-large.jpg', distance:'Distance to tube:', lat: '51.493102', lng: '-0.146519' } ]; var tube = [ { name: '', description: '', lat: '', lng: '' } ]; function initialize() { TheatreBreaks.initializeMap({ lat: '51.493102', lng: '-0.146519', zoom: 13, attraction: attraction, tube: tube }); } function loadMapScript() { var script = document.createElement('script'); script.type = 'text/javascript'; script.src = 'https://maps.googleapis.com/maps/api/js?v=3.exp' + '&key=AIzaSyDdiSE1qIzqFvwI-W18TrMewsYqaefd4DI&signed_in=true&callback=initialize'; document.body.appendChild(script); } var revtotal = 0, hotelcookie; if (revtotal === 0) { hotelcookie = [ "Warner Bros. Studio Tour with Coach Victoria Peak 2023", "//www.hoteldirect.co.uk/img/Warner-Bros.-Studio-Tour-with-Golden-Tours-Coach-Travel-thumb-large.jpg", "", "0", "//www.hoteldirect.co.uk/londonbreaks/warner-bros]-studio-tour-with-coach-victoria-peak-2023.htm", "", "", "Warner Bros. Studio Tour with Coach Victoria Peak 2023", "London" ]; } else { hotelcookie = [ "Warner Bros. Studio Tour with Coach Victoria Peak 2023", "//www.hoteldirect.co.uk/img/Warner-Bros.-Studio-Tour-with-Golden-Tours-Coach-Travel-thumb-large.jpg", "", "0", "//www.hoteldirect.co.uk/londonbreaks/warner-bros]-studio-tour-with-coach-victoria-peak-2023.htm", "Customer Score, 0 reviews", ": ", "Warner Bros. Studio Tour with Coach Victoria Peak 2023", "London" ]; } $(function() { HD.Cookie.attachRecentlyViewed(); HD.Cookie.setLastViewed(hotelcookie); });
Warner Bros. Studio Tour with Coach Victoria Peak 2023 hotel package
Select:
1. Attraction >
2. Dates >
3. Hotel >
4. Rooms >
5. Book
Prices include tickets plus hotel
Tickets + hotel fr £60 / person
Tickets + hotel fr £60 £54 / person
Your Hotel Direct credit:
Attraction details
Warner Bros. Studio Tour with Coach Victoria Peak 2023
Golden Tours Warner Brothers Studio Tour
Bullied Way
Victoria
SW1W 9SR
Directions:
-
Attraction notes
Age restrictions: Children are 5- 15 years
Booking from: 01 Jan 2023
Booking until: 31 Dec 2023
Opening hours: The Tour departs daily at: 0730, 0800, 0830, 0900, 1100
Pick up point: Please present your E-Voucher upon arrival at Bus Stop 1, Bullied Way, Victoria, London, SW1W 9SR
Important info: Your Ticket includes:Return transportation to Warner Bros. Studio on a Double Decker busEntrance to Warner Bros. Studio Tour LondonGolden Tours reserves the right to cancel tours should there be an insufficient number of guests.Disabled AccessIn order to book the tour with return transportation for wheelchair users and their carers please contact us for availability.
Warner Bros. Studio Tour with Coach Victoria Peak 2023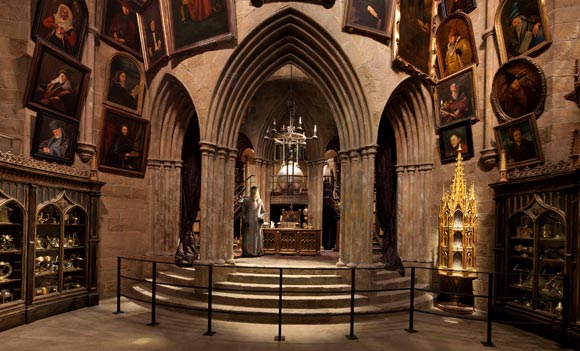 The Attraction
If you have ever wanted to ride a broomstick or explore the shops of Diagon alley then the Warner Bros Studio Tour is the experience you have been waiting for. With a huge number of interactive activities and props from the films visitors can board the Knight bus, wander through Privet Drive or enjoy a refreshing butterbeer.

With thousands of original props and costumes as well as animatronic creatures and original sets the tour also offers digital guides that will enhance your visit with an explanation and insight into the film making process, this is one adventure all Harry Potter fans should partake in.

Booking through Hotel Direct guests will not only get the best possible price for their accommodation but will be transported by coach from central London to Leavesden Studios which is located near the M25.

History of the attraction
For more than a decade the Harry Potter franchise called Leavesden Studios its home, when production wrapped after the Deathly Hallows Part 2 in 2010, the production crew decided that it was a waste to dispose of the vast wealth of props and costumes involved. They decided that instead of just destroying these iconic items they would allow Harry Potters legions of fans to gain an understanding of the work that went into producing this hugely successful franchise.

Including many interactive events such as green screen broom riding making this more than just a tour, allowing visitors to feel like they have been transported into the magical world unknown to most muggles.

Interesting facts
Many of the books in Dumbledore's study were phone books that had been covered to look like ancient tomes.

The portraits that adorn the walls of Hogwarts are of the film crew and were all hand painted.

Why book with us?
No Booking fees. No Card fees
Buy tickets + hotel together to save more
Choose your room type before you book
We're in the UK!
Tel: 0800 633 8000
Mob: 01872 261100
1000s of reviews
No1 rated break site
Checking availability
You're securing a better price booking your attraction and hotel together!
Warner Bros. Studio Tour with Coach Victoria Peak 2023
Golden Tours Warner Brothers Studio Tour
Bullied Way
Victoria
SW1W 9SR
Closest Tube
Dear . Fantastic news! You have a credit of to spend against your next hotel booking. Hotel Direct has awarded this money back to you in thanks for your regular custom. We hope that you have an opportunity to enjoy this personal money-off offer very soon. T&Cs apply.