Joseph and the Amazing Technicolor Dreamcoat Tickets and Hotel
Select:
1. Show >
2. Dates >
3. Hotel >
4. Rooms >
5. Seats >
6. Book
Prices include tickets plus hotel
Tickets + hotel fr £40 / person
Tickets + hotel fr £40 £36 / person
Your Hotel Direct credit:
Theatre details
London Palladium
London Palladium
8 Argyll Street
London
W1F 7TF
Directions:
2mins walk from Oxford Circus Tube Station. Head east on Oxford Street, turn right onto Argyll Street and theatre will be on the left.
Tube:
Oxford Circus station is 1 minute walk (148 metres)
Performances
| | Matinee | Evening |
| --- | --- | --- |
| Monday | | 7.30pm |
| Tuesday | | 7.30pm |
| Wednesday | 2.30pm | 7.30pm |
| Thursday | | 7.30pm |
| Friday | | 7.30pm |
| Saturday | 2.30pm | 7.30pm |
Show notes
Booking from: 01 Jul 2019
Booking until: 07 Sep 2019
Why book with us?
No Booking fees. No Card fees
Buy tickets + hotel together to save more
Choose seat numbers & rooms before you book
Tel: 0800 633 8000
Mob: 01872 261100
We're in the UK!
No1 rated theatre site
Photographs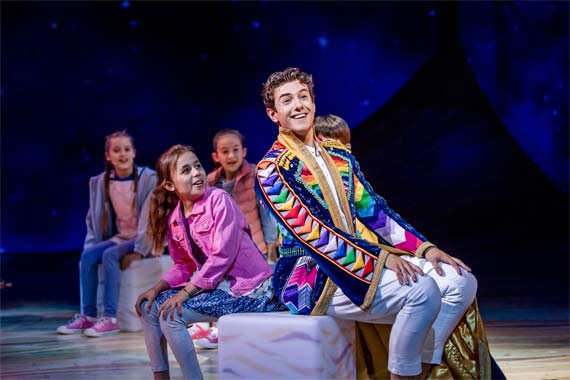 The Show
Tim Rice and Andrew Lloyd Webber's award-winning musical, Joseph and the Amazing Technicolor Dreamcoat, returns to the London Palladium for a limited run this Summer! The musical follows the story of Joseph and his journey after being betrayed by his brothers, as told by the Narrator, Sheridan Smith. Jealous of the favour Joseph has of their father, symbolised by Joseph's multi-coloured coat, his 11 brothers plot to rid themselves of Joseph. Subsequently Joseph finds himself as a slave in Egypt and must work his way up to earn his freedom. PLEASE NOTE: Hotel Direct can not guarantee the attendance and performance of any particular actor.

History of Joseph and the Amazing Technicolor Dreamcoat
Joseph and the Amazing Technicolor Dreamcoat is based on the Bible's "Coat of Many Colours", it features music by Andrew Lloyd Webber and lyrics by Tim Rice and is the first musical from the two to be performed publicly. The show was originally shown at a school in London in 1968 and was only a 15 minute "pop cantata". It was not until 1972 that a 35-minute version of the musical was performed professionally at the Edinburgh International Festival. In 1974 the show was produced in full and performed at the Haymarket Theatre, following this the show was recorded later that same year. The show has featured many famous names throughout it's multiple shows and tours, including Jason Donovan and Phillip Schofield. The show also made it to film and stared Donny Osmond in the title role.

Why book London theatre tickets to see Joseph and the Amazing Technicolor Dreamcoat
With your theatre tickets and hotel booking made in one reservation, it is possible to save up to 50% with Hotel Direct. Choose one of our great packages and don't miss this much-loved show.

Awards & what the Critics say
Best Set Designer - 1992 Laurence Olivier Award

There are currently no reviews for this show as it has yet to open.

Joseph and the Amazing Technicolor Dreamcoat audience reviews
"Excellent, professional display of musial production"
25/5/2009
"Must be seen"
18/4/2009
"Every minute of the show was spellbinding, I would highly recommend it."
"The show was amazing"
17/4/2009
"Enjoyed it thoroughly."
"full of energy, colour, and musicality"
16/4/2009
"Superb show, non stop entertainment"
7/4/2009
""joseph" fantastic show"
25/3/2009
"a show not to be missed. Surprisingly i found Gareth Gates in the role of Joseph to be an outstanding choice. however the main show stealer for me was the character portrayed in the vain of "elvis presley". definately a show to go out and see!!"
"gareth gates was excellent"
14/3/2009
Dear . Fantastic news! You have a credit of to spend against your next hotel booking. Hotel Direct has awarded this money back to you in thanks for your regular custom. We hope that you have an opportunity to enjoy this personal money-off offer very soon. T&Cs apply.